We buy used cars, we sell used cars, and we sell used car parts at Wreckland. For over 15 years, our family-owned business has provided Auckland residents with the opportunity to buy inexpensive cars and car parts. If you need recycled auto parts for nearly any make and model, we are the Auckland auto wreckers you can count on.
THE GREEN PART PROCESS
The modern auto recycling process is a model of environmental responsibility. Each vehicle goes through a methodical process designed to recover the maximum amount of materials while minimizing environmental impact.
Each vehicle is first carefully inspected to determine which parts are appropriate for reuse. The second step is to drain components that pose the greatest risks to the environment such as oil, gas and operating fluids. These fluids are then cautiously drained by trained technicians and stored for reuse or recycling. During the process, special equipment and methods are used in order to prevent any risk of groundwater contamination. An average of 30 liters of fluids is removed from each vehicle to be used, reused or safely discarded. Other parts like gas tanks, batteries and tires are all removed and recycled, reused or disposed of appropriately.
An accurate inventory data set consisting of the VIN number, mileage, make, model and year are recorded for each vehicle. The vehicle is then sent to the dismantling area where the parts are removed, inspected and prepared for resale. Each part is tagged, coded and entered into a computerized inventory system before it is properly stored.
All other parts of the vehicle are then crushed and sent to be shredded into small pieces for recovery. The valuable ferrous and non-ferrous metals are then separated and reused in the manufacture of new cars and other products and the cycle starts again.
ORIGINAL PARTS AT A FRACTION OF THE PRICE
second hand car parts can be purchased at roughly half the cost of new parts. They are diligently and strictly road tested and guaranteed to fit the vehicle. Be it a vintage model component, an obsolete one or a hard to find part, you can be sure that each used car part will perform to the same standards to which they were designed.
QUALITY TESTED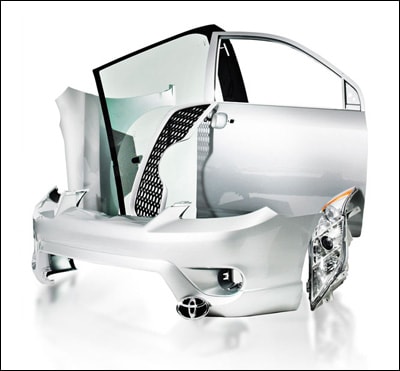 During the recycling process, each recovered part is inspected and tested so that only those that meet strict guidelines and tolerances are offered for resale. Some parts such as engines and transmissions may be re-manufactured while other parts such as lights and wheels may be reconditioned. Other components that need to be protected from the elements are carefully stored in warehouses to preserve their integrity and performance.
Each parts model, year, mileage and the vehicle they came from are recorded to keep an inventory of its condition. All Auckland car wreckers guarantee that all their parts are in good working condition, if not they will exchange them.
Some members offer longer warranties and even make optional extended warranties available. Feel free to ask for that when you are purchasing your auto spare.
AVAILABLE AT YOUR FINGER TIPS
Sourcing and ordering the exact Used Car Parts that is right for your vehicle from Wreckland is simple, fast and painless. All information regarding the part is recorded, grading the condition of the part based on mileage, minor damage, and other details. Each part is assigned an industry-wide interchange number that identifies which vehicle, model and type it fits.
After that, each part is bar coded or labeled with an inventory number, and then entered into a computerized inventory management system.
This system allows recyclers to know what part they have in stock and where it is found in the warehouse, thus locating it within seconds.
This network of inventory management system allows any a to search for a particular Used Car Part via its network of auto recyclers.
1- North Island: Whangarei auto wreckers, North shore auto wreckers, Auckland auto wreckers, Hamilton auto wreckers, New Plymouth car wreckers, Wellington auto wreckers.
2. South Island: Nelson auto wreckers, Blenheim auto wreckers, Christchurch auto wreckers, Ashburton auto wreckers, Timaru auto wreckers, Dunedin auto wreckers, Invercargill auto wreckers.
REPLACEMENT PARTS